April 21st 2023
When we talk about 'large scale' mapping, we often mean a map or plan showing a small area of land or physical space in detail – such as a CAD plan or drawing. Beyond such architectural-style CAD plans, there are in fact many different use cases of large-scale maps and plans in the Cartographic World; from entire site mapping for Estates and Facilities Management through to discreet detailed room plans for familiarisation and evacuation purposes.
Many organisations, from schools to large factories may already hold CAD drawings, architectural PDFs or even hand-drawn plans. Although such sources are useful, they often include far too much detail to be of use for navigation and wayfinding purposes, or indeed they may just not show key pieces of information clearly enough. Taking the example of developing a wayfinding and evacuation map from a detailed CAD plan, the cartographic design process would strip away detail of internal plants and assemblies to focus on thoroughfares and escape routes. The available CAD plans may also need to be reworked into a consistent set of 'blueprints' for a site, with an emphasis on the relevant information for the intended purpose.
We can take a look at some examples of large-scale site mapping and floor plans:
Helping to promote the available facilities
Detailed hotel floor plans and room plans are being used by the Travel, Leisure and Hospitality Sectors to help promote their facilities and ultimately help convert an enquiry into a confirmed room booking.  The hotel sector – in particular the luxury, upmarket and boutique sectors – are using such plans to sell the room facilities including furniture, room layout and conference facilities.
2. For Wayfinding and Navigation
Detailed building and floor plans are being used increasingly for wayfinding and navigation purposes by high-traffic sites such as schools and universities.  Such maps can help with estate planning and management, site deliveries and not least with Open Days for prospective parents and students. Such detailed floor plans are also being used to describe subject areas and also for fire and safety evacuation.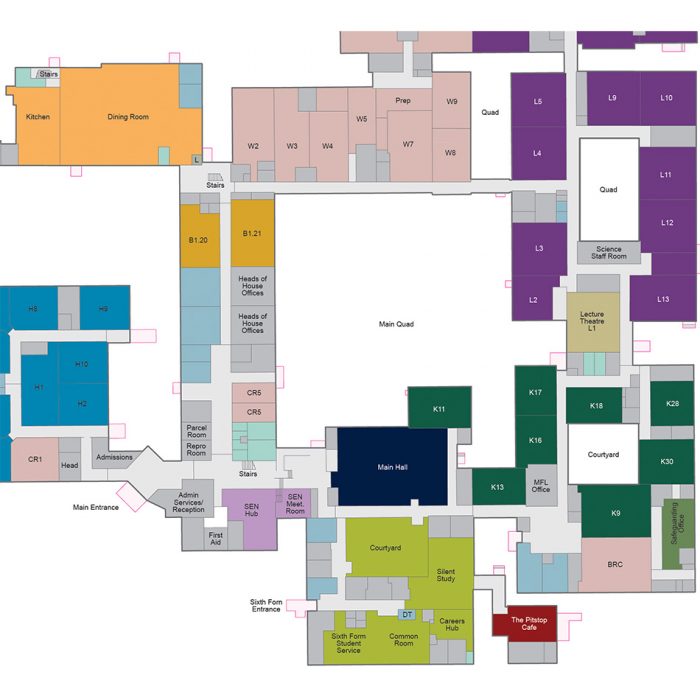 3. For Health and Safety and Accessibility
Large commercial and industrial sites such as factories and warehouses may require evacuation plans for employee safety and compliance measures.  Such plans can also be very useful in providing enhanced information on accessibility, exit points and the presence of steps and ramps within large and complex sites.
4. Efficiencies across a super-site
A very large and complex site with multiple floors such as a mega-warehouse can benefit hugely from improved floor plans and maps, especially in times of a fluid workforce.   The use of carefully designed site plans with useful symbols to assist easy recognition of key landmarks can provide efficiencies for employees across a huge site.  Such detailed floor plans can also be used to show communal facilities, first-aid bays, stairwells as well as signposting locations of products by easy to read themes and categories.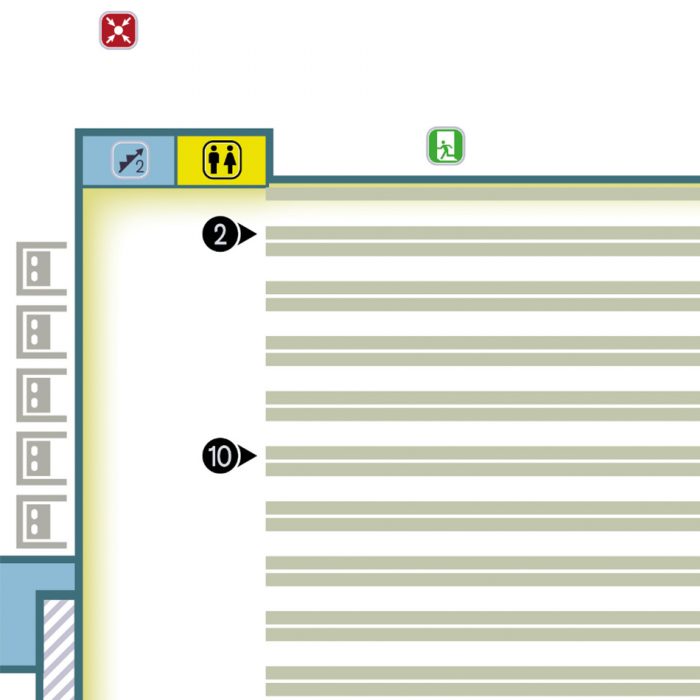 In summary, there are many possible uses of large-scale maps. By stripping back existing plans, the cartographic design process can deliver many benefits for stakeholders including clients, employees and visitors across many different types of organization.