August 24th 2021
With nearly 10,000 Parishes in England (according to the Department for Communities and Local Government), many of us come into contact with a Parish or Town Council at some point in our lives. The role they play in our community varies but they are often responsible for the maintenance of markets, parks, playgrounds, allotments, litter bins, public toilets, village halls as well as being statutory consultees on local planning applications. Parish and Town Councils have traditionally used a large format printed map, perhaps within a display noticeboard, usually positioned at a key arrival point in the town or village such as a car park or market square. Such maps can be helpful for the first-time or occasional visitors, providing a useful guide to a town's amenities such as food and drink options, local shops, local walks and available parks and green spaces. They also encourage exploration of the town or village, helping the local economy. Here we take a brief look at how certain parish and town councils are using different styles of maps to provide wayfinding and navigation for citizens and visitors.
The map commissioned by Oswestry Borderland Tourism was needed to replace an outdated and faded map from 2002 for which the original artwork files were no longer available. The map focuses on the historic centre of this market town, using 3D representation of key buildings to focus the user on those particular features. Green spaces are also featured heavily on the map to encourage dwell time in the town which in turn benefits the local economy. This map has also been provided as a PDF download on VisitOswestry.co.uk.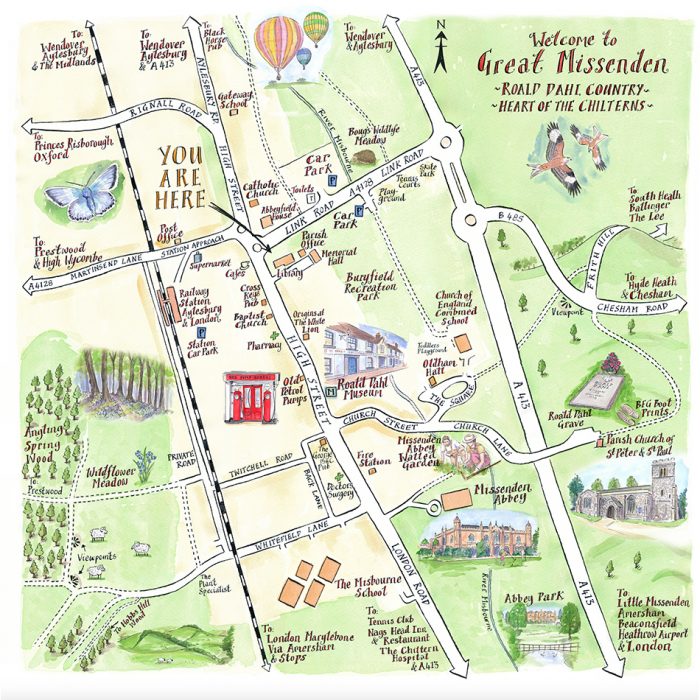 This Parish map of Great Missenden was commissioned by the local Revitalisation Group as part of a broader strategy to benefit the local community in providing a new Information Board for the village. It had been recognised for some years that Great Missenden needed improved visitor information and wayfinding and so a new Information Board was budgeted for and commissioned along with the map artwork. This style of map uses hand-drawn watercolour illustrations to highlight the key points of interest including the Abbey, Road Dahl Museum and surrounding green spaces. It is simple and uncluttered, allowing the user to pick out the key points of interest in the village.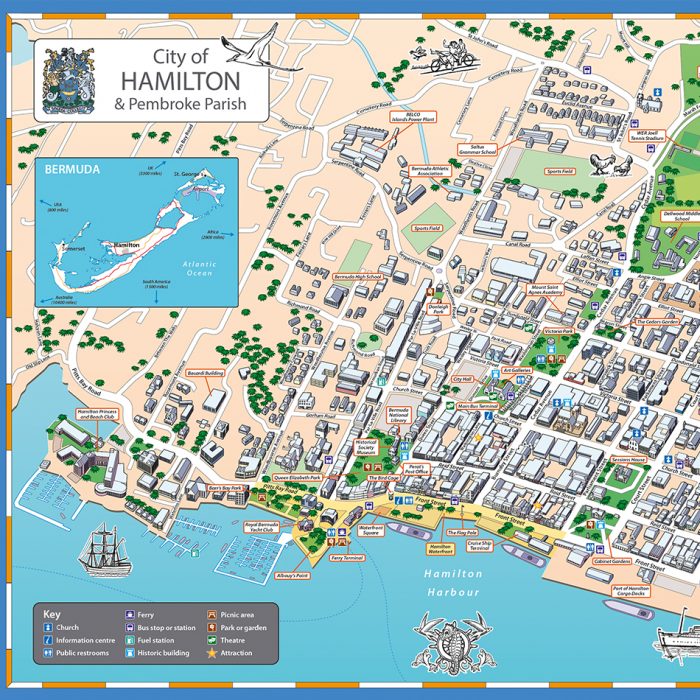 This map of the parish of Hamilton, Bermuda was commissioned by the Engineering Department who were looking for maps to be developed for a wayfinding project. With existing Information Board hardware already in situ, unlike the previous example, this artwork needed to work at sizes to fit the existing signage around the city. The map needed to provide directional guidance in a busy network of streets and waterfront setting and has been positioned in high traffic areas in front of ferry terminals and bus stations. The design uses 3D buildings and frontages to great effect to help the first-time visitor orientate themselves. Simple call-out boxes label key buildings for additional interest and assist with wayfinding.

These are three great examples of how parish and town councils are using maps to great effect, from display boards in a village setting to show off local points of interest through to busy visitor destinations where improved orientation and navigation are helping the local economy. With digital artwork in place, these maps can be repurposed for PDF download and use in smaller leaflets as well as the traditional large format noticeboard.

[ssba]