March 31st 2020
The use of illustrated maps as a means of highlighting a particular location and its unique features has grown in recent years across several industries.
Here are some different styles which we at Lovell Johns have worked with, as well as some we have noticed recently.
Holyrood Park, Edinburgh
This hugely realistic drawing of Holyrood Park highlights the undulating terrain of the location by using a detailed watercolour style. The features outside the park are dulled back slightly to allow the main area of focus to stand out. The paths and the nature of the landscape are really brought to life in the image.
London Winter Run
This map, a highly illustrated pen drawing, was made by Dave Draws to commemorate the 2019 Cancer Research UK London Winter Run. It highlights certain key buildings in a sketchy style and the route clearly stands out amongst the monochrome detail.
Great Missenden
Another watercoloured map of a historic village shows the main tourist features, highlighted as 3D buildings, in order to attract visitors. There are small cartoon-style drawings of sheep, red kites, etc, which really convey the rural nature of the area. Fun fact, Great Missenden is the birth place of children's author, Roald Dahl.
Illustrated Map of Newcastle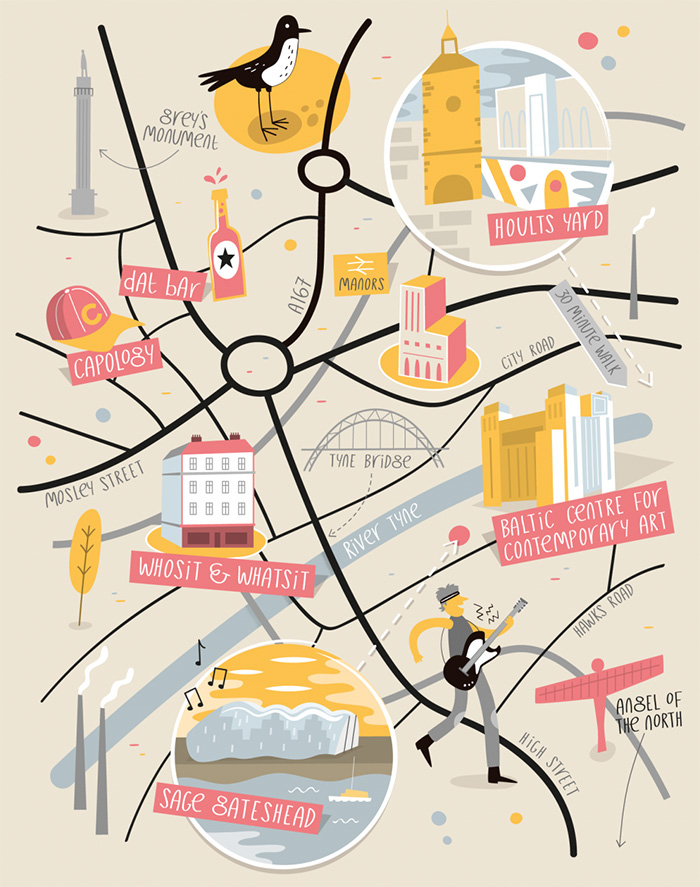 The style of this particular map is very minimal, with the illustrated features standing out far more than the map itself. It has a fun, quirky design, with a limited colour palette. This map design is credited to Tom Wooley.
Belmond Luxury Travels
The luxury travel company Belmond use illustrated maps to highlight the landscaped features of their hotels. This is an intricate map, hand-drawn from an oblique angle, showing the building and grounds in detail.
As we can see, these varying styles of illustrated maps work in different ways for their target audience, from a large public space to a private landscaped hotel gardens. Our expert map makers and cartographers are well versed in mapping techniques, to work with a varied clientele, and fully capable of delivering stunning maps across these industries.