April 9th 2021
The definition of the world 'illustrated': – 'to provide with visual features intended to explain or decorate'
When we look at the literal meaning of 'illustrated', it's obvious why so many commissions for tourist attractions and visitor destinations use this form of map. The illustrated approach can bring a subject area to life, providing the user with a unique visual experience through the use of interesting graphics. This cartographic design can also help enormously with the fundamental purposes of a map – orientation and navigation. Let's take a quick look at how illustrated maps use this technique.
Waterfront City Plan – Hamilton, Bermuda
The City Council of Hamilton, Bermuda, were looking for a highly illustrated style of map to showcase the waterfront aspect of the town, being the key arrival point by sea. The design uses 3D buildings and frontages to great effect to help the first-time visitor orientate themselves. Simple call-out boxes label these key buildings for additional interest and assist with wayfinding. This is a common style of information board map used at key arrival points in tourist locations.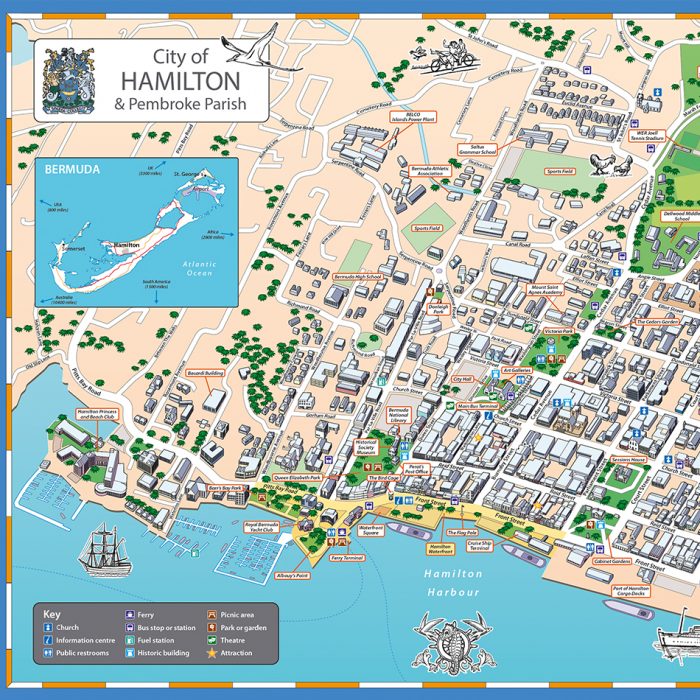 Cycling and Historic Walks – Perth and Kinross
This map covers a fairly large area, centred on a 4.5 mile long historic path. The purpose of this activity map is to encourage outdoor use of the area but rather than a being a traditional 2D map, the design incorporates some subtle graphical elements such as illustrated points of interest, allowing the cycling and walking information to stand out. The map is produced in a leaflet format and is available as a download from the council website (PDF).
Villages and smaller Local Attractions – Great Missenden
This entirely illustrated map provides a town plan in an artistic style and is both fun and interesting for the user. The key points of interest, brought to life as illustrated vignettes across the piece, were agreed with our client and encourage the reader to linger and learn what the town has to offer. The labelling is also drawn in this water colour hand-lettering illustrated style. This style of map works well on signage and notice boards.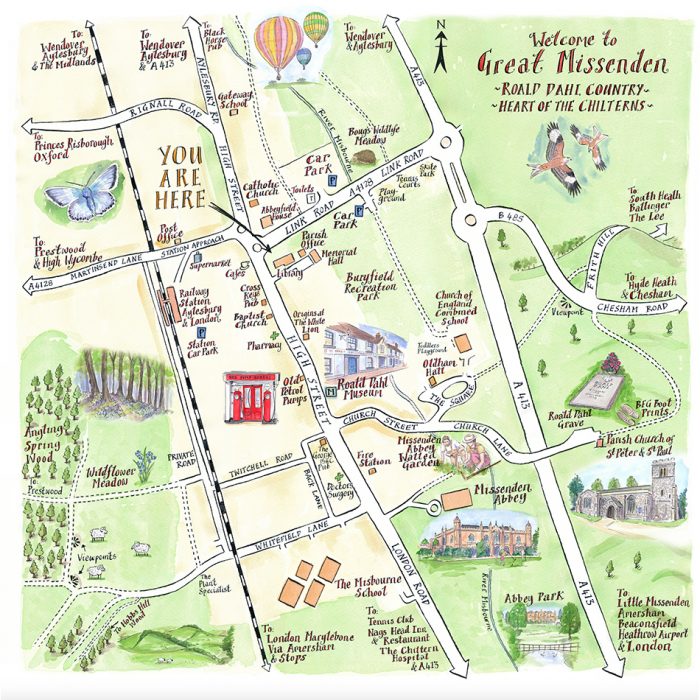 Major visitor attraction – Holyrood Park
The Holyrood Park map is also drawn in an illustrated style, albeit using a more realistic digital tone than the previous softer water colour example. With as many as 5 million visitors a year and many of those tourists, the map was designed to be deliberately realistic in style and extremely user-friendly. The illustrated style also helps to give a sense of the changing height across the site, something just not possible with many 2D traditional maps.
Artistic illustration for luxury hotel
In some ways less a map and more of a graphic illustration, this depiction of a Florence hotel and landscaped gardens is drawn from the best angle to show the frontage of the building and beautiful terraced gardens. Great care has been taken in choosing the appropriate illustrative style to replicate existing branding. This map gives the user many reference points for orientation and navigation and describes the site in great detail.
From large display boards in town centres, through to brochures, leaflets and high resolution website images, the illustrated map is proving increasingly popular with the travel, leisure and tourism sector. These are just some examples that show how hotels, parks and villages are using better mapping techniques to inform and help their audiences, giving these pieces a real sense of identity and unique graphic illustration.